TORONTO SPORTS TICKETS
Toronto is a great city for grabbing tickets to a big game, whether you're into hockey, baseball, basketball, football, the other football (soccer), or UFC.
Ticket Centre offers value by providing premium or hard-to-get tickets for all of your favourite sports teams; we can help you be at center ice for a Toronto Maple Leafs game, or place you courtside at a Toronto Raptors game for a price that's fair and reasonable, and in Canadian dollars too, with no hidden service fees!
While Ticket Centre is your trusted local source for great sporting events in Toronto (Blue Jays or the Toronto FC), we also have access to all major sport entertainment tickets throughout Canada, and beyond! Heading to the Masters in Augusta and want to deal with a trustworthy Canadian ticket broker, then give us a call!
Browse through our inventory, contacts us through email, or call and speak to somebody in person – we'll help you find tickets to great sport entertainment, guaranteed!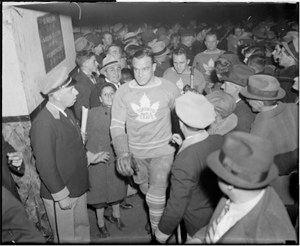 Sports Tickets - Upcoming